Well, here is the one you have all been waiting for..... Surgeio's build-up.

It started back in April 2010 when Mrs Sej and I decided we would like a 4x4 dual cab ute for touring dirt roads while on holidays, (Not 4x4ing). I have always had lowered cars in the past which were too impractical. The plan was to buy a second hand Triton or Hilux but after searching around they wanted almost as much for a used one as a new one, so a new one was the answer

The deciding facter for us between the Triton & Hilux was the opening rear window, that's all it came down to.

A trip down to the Dealer had us signed up for a Black GLXR with rear diff lock (which I didn't want at the time

) A week or so later it was ready to go with some floor mats, tub liner and toneau cover in the back for me to fit. (While fitting the tub liner, I added some tie-down points from ARB, ran power to the tub for lights and power sockets.)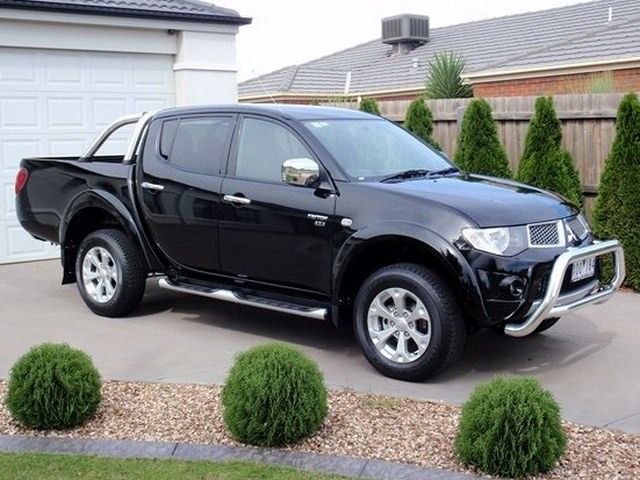 Brand new, ready for mods
The next day, it went off to a mate of mine who tinted the front window to match the rears.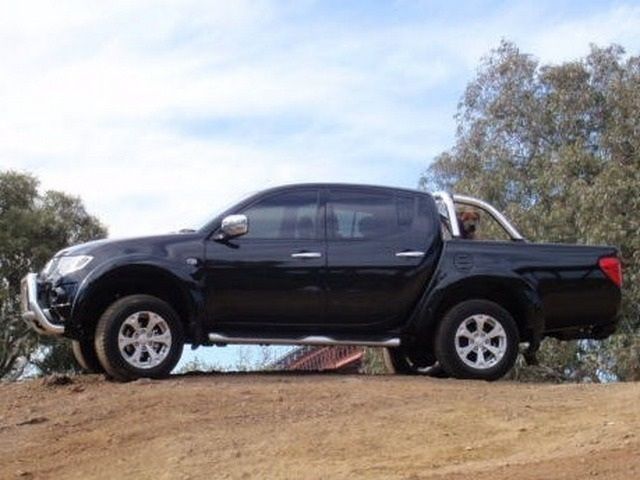 Windows all matching now
A few days later, a package came in the mail, my new number plates.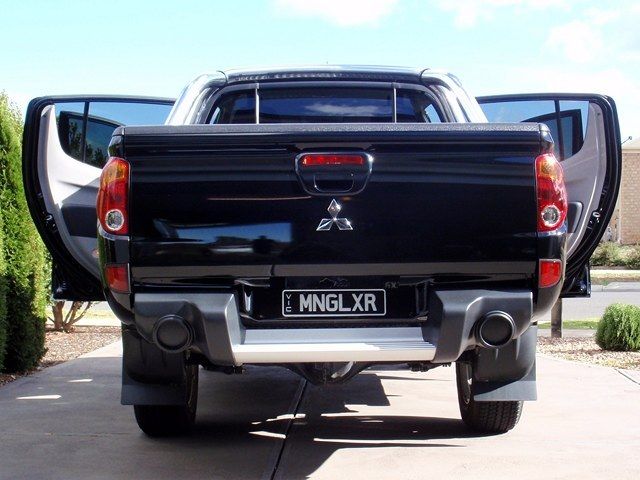 Number plates on..... Badges off
An upcoming trip to Adelaide had me light shopping, I went for a set of Narva 225s in spot beam and mounted them on the nudge bar. After the trip I realised I had made a mistake with the spot beam and ordered the spread beam lenses.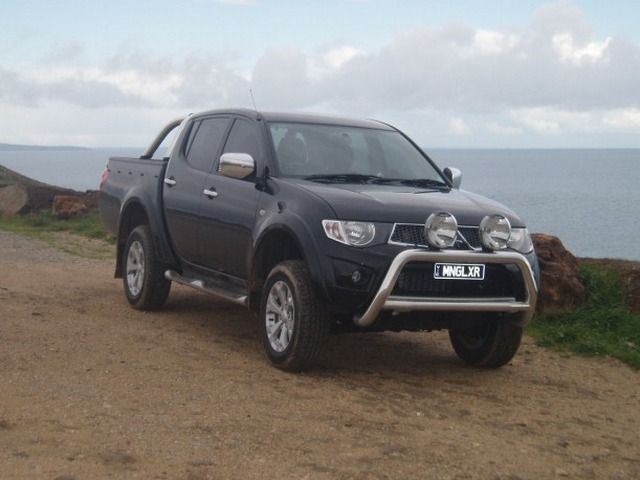 Narva 225s were a touch big on the nudge bar
The time came for some protection, I had already decided on an ARB Sahara bar and rear step towbar. A call was made to ARB only to find out that they didn't make the Sahara bar for the MN.
While trying to find out on the net if anyone had used a ML bar on the MN I stumbled onto this site.

From what I could tell it had not been attempted before and after some consideration I was willing to take the gamble.
I visited ARB and ordered the front and rear bars and also a 'Long Ranger' fuel tank.
Fitting the rear bar was first and it turned out to be quiet an easy job. The long range fuel tank turned out to be a bit of a PITA as I did it on my own and left the tail shaft in place.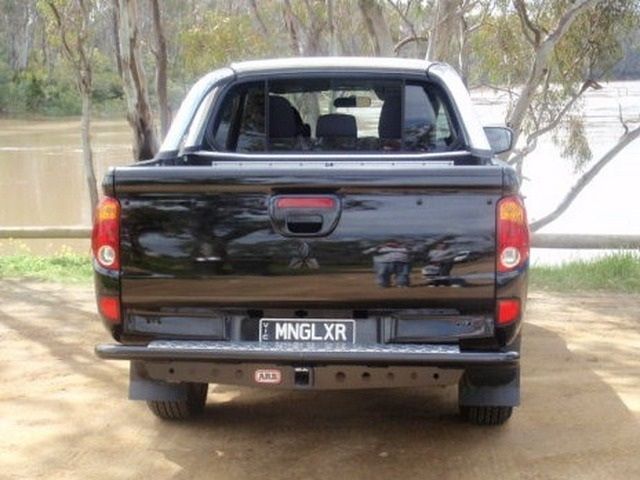 Rear step tow bar fitted
Front bar time..... I gave myself the whole weekend to get this done as I had no idea what to expect. Friday night I unpacked it and layed every thing out ready for an early morning attack. Saturday morning, I had the front stripped, all the brackets fitted and the bar mounted to see what it needed to fit it to my MN.

It turned out that the only difference was the rear profile shape where it meets up with the front bumper. Saturday arvo was taken up by lots of grinding, fitting, checking and removal for more grinding. by Saturday evening, I had the bar ready to fit for good but my arms were ready to fall off.

Sunday morning had the bar fitted and finished off. It took a long time but worth it because as far as I could tell I had the only MN with a Sahara bar.

One last pic of the stock front end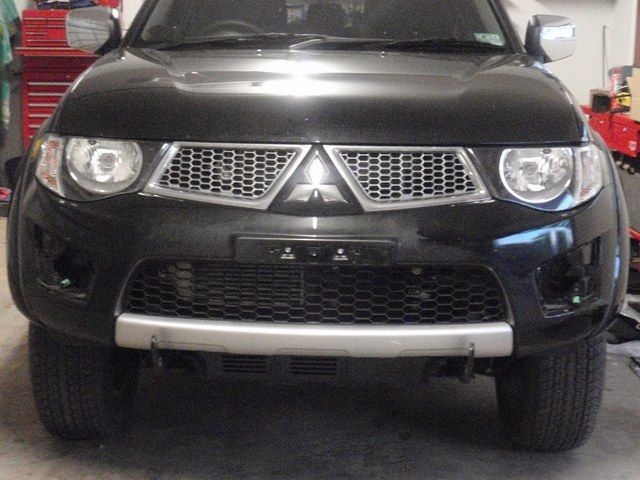 Nudge bar and number plate off
Front stripped, ready for the brackets
Test fit to see what I'm in for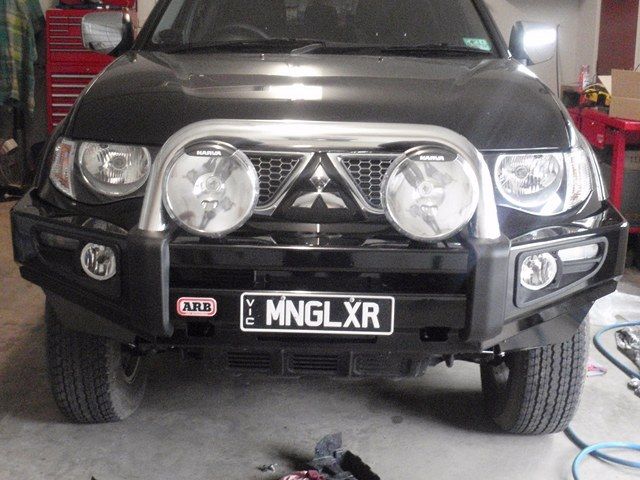 All finished & looking good
Now that I was a stalker on the forum, there was a trip coming up to the Grampians. A few PMs (as I was too scared to post

) to Salt36 had me on the list to attend. During the trip talk a group buy on Baysie's bash plates was organised, a few more PMs had a set secured for me too.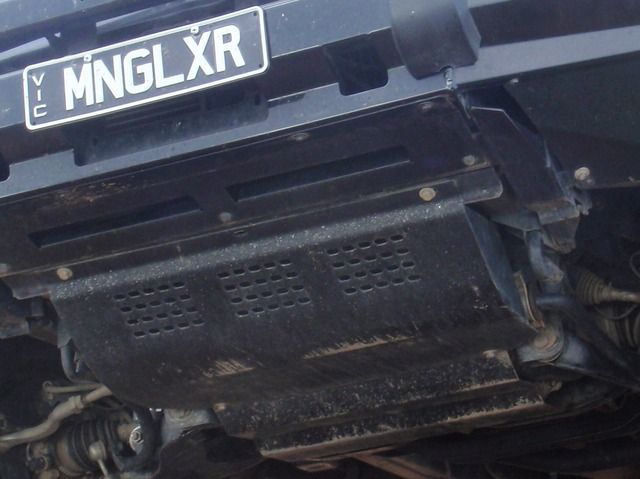 Baysie's bash plates, the best ones out there IMO
The Grampians trip was great, very wet but great. We were worried as we drove up to the camp thinking they are all going to be axe murders!
We couldn't have been more wrong though, that trip and every other one has been full of great people.

While on that trip the members convinced me to start posting so you can blame them for this.

Also that is where the 4x4 bug bit me, HARD!
The next trip coming up was to the Thompson Dam. Not too much happened between the Grampians trip and then, (other than fitting some day time running light where the indicators would go in the Sahara bar). At the Thompson Dam trip, after seeing how easy Mooons (in 2wd) got through a small boggy patch of mud, Mrs Sej and I decided that a set of muddies would be a good idea. A set of LT265 75 r16 BFG KM2s on 16 x8 Dynamic steel rims were bought.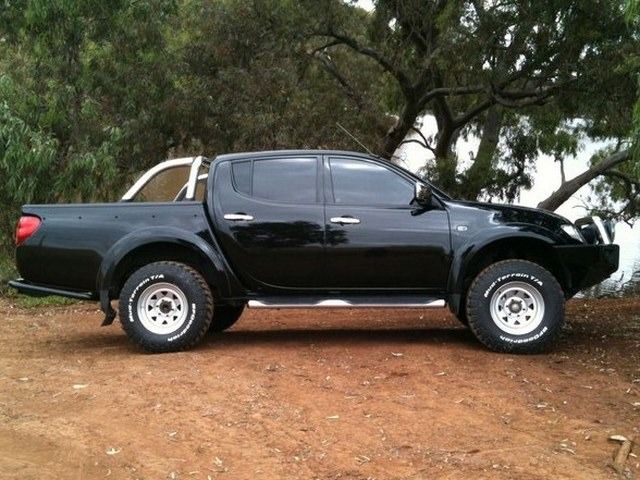 New rims and tyres
We went out on a few day trips here and there but on one to the Wombat State Forest, I nearly drowned Surgeio in a bog hole

we had muddy water up over the bonnet and into the air cleaner. The very next day, a Safari Snorkel was ordered and fitted the following weekend.
Not where you want to see muddy water
Snorkel all finished ready for water crossings
While on the Thompson Dam trip, I met a great bloke by the name of Steane, while chatting, he asked me if my suspension had given up yet as I was getting close to the kms he was at when his gave up. When I replied no, he hinted that it would soon fail.

Sure enough, that mongrel..... I mean great bloke
was right. From around 20,000kms (I think) every drive was terrible and we were getting motion sickness from it.

A call to Ultimate Suspension had a lift kit on its way for Mooons and myself. When the kits arrived at Mrs Mooons' work, the plan was for Mooons to drop the kits off one Friday night and return to fit them over the weekend. That went out the window and we ended up fitting the 2 kits that night

All 4 of my shockers were leaking.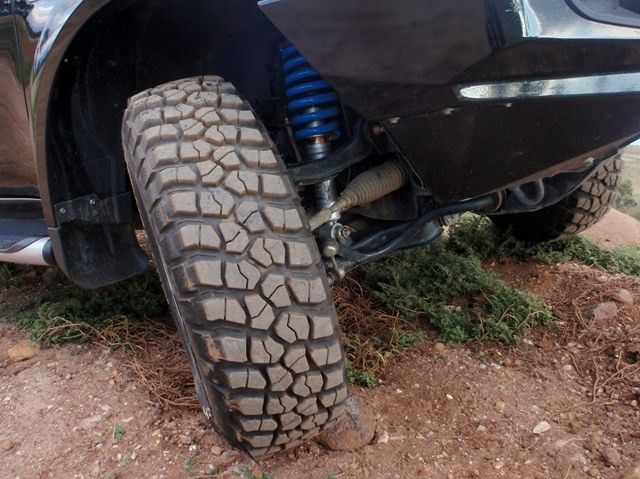 Nice new Ultimate Suspension front strut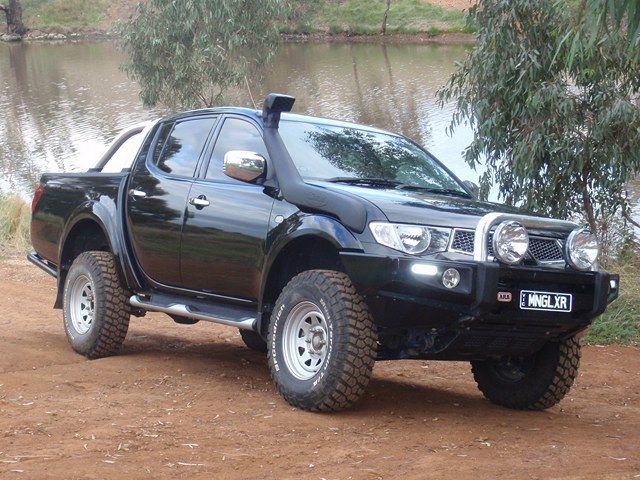 New stance for Surgeio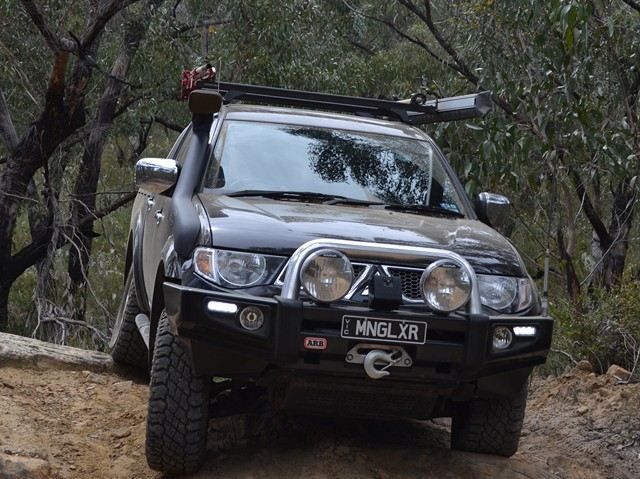 Suspension working well
A few camping trips went by and we needed more storage space. A roof rack set-up was the go. We chose a Rhino Rack track mounted kit with a basket, shovel holder, hi-lift jack holder and a 2.5m awning.
Roof rack all loaded on our Lake Eyre trip
Not really a pic of the roof rack set-up, (but I like the picture. Thanks Mrs Mooons)
More trips came and went and I got sick to death of swapping wheels over every time we went out.
Also the stock tyres looked terrible on Surgeio so some new LT265 70 r17 Cooper ST Maxx tyres replace the stockies. No more swapping tyres for me



New Coopers do the job nicely
The boys from NSW were planning a trip the the High Country to do some good tracks so the time came to buy some more parts.
An ARB front locker was ordered as was a Tigerz11 12,000lb winch. I removed the front diff and stripped it, ARB fitted the centre then I reinstalled it and mounted the compressor on a dual battery tray, (thanks for the idea Kegsy). The winch was fitted soon after.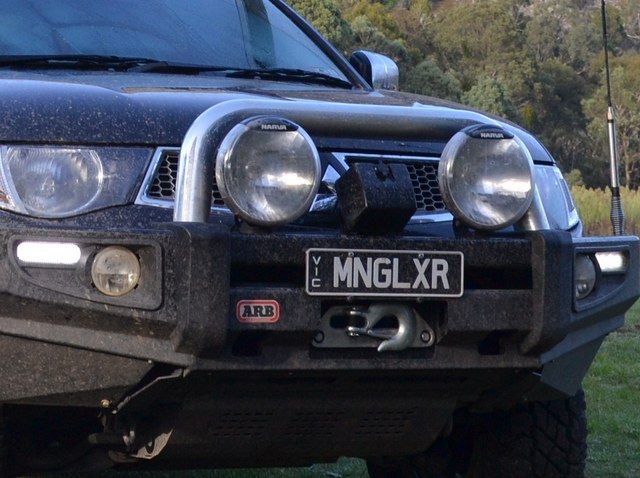 Winch installed
At some point during the build, (I can't remember when), I installed a scan gauge II, Uniden UHF, Chip-it chip, GPS and a dash mat.
Driver's eye view
Another couple of small mods I have done at some point was fit some Narva LED work lights for reverse lights and raise the side steps up 50mm and paint them black.
Good reverse lights make a big difference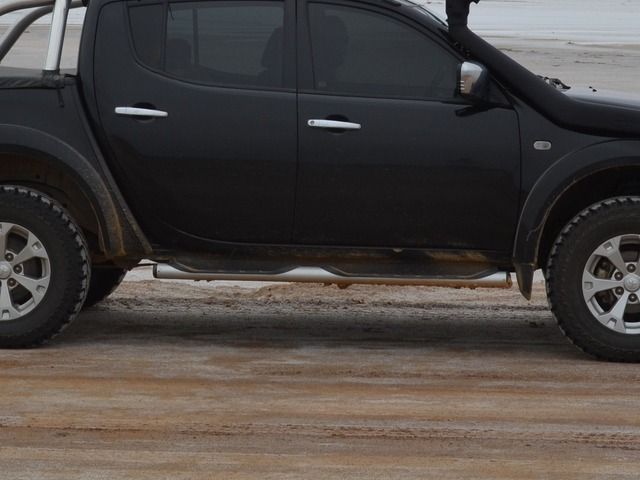 Original side step
Side step raised and painted
At 90,000kms I replaced my timing belts and finally adjusted my valves for the first time.

All the exhaust valves were spot on, I didn't have to adjust one

However, every inlet valve was tight, (less than .05mm) even so, after this I am more than happy to let them go another 90,000kms before doing them again. (I am not recommending anyone else do this but this is
MY
car,
MY
choice.

)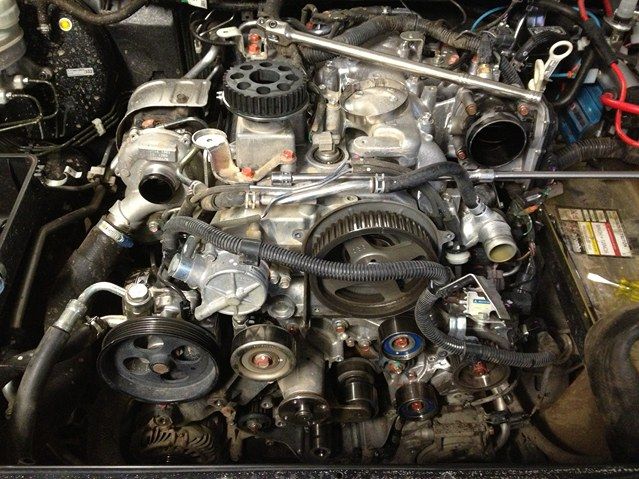 Radiator, fan, harmonic balancer, belts and covers off ready for the new timing belts.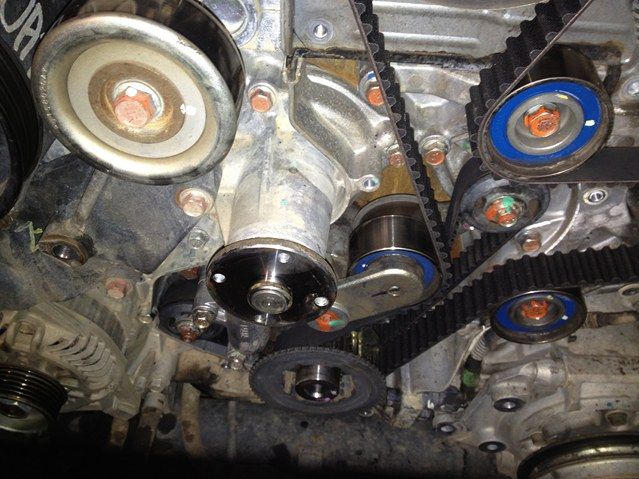 New timing belts fitted. (The smaller one at the back is the one I broke on the way home from the smurfs trip)
Inlet manifold and rocker cover off ready to adjust the valves.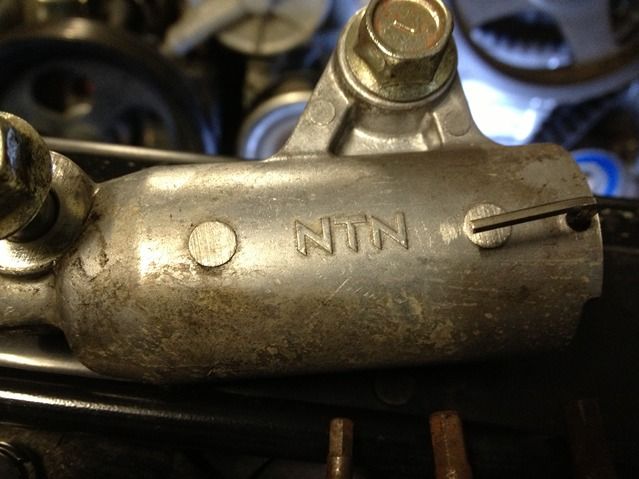 Even the tensioner knows about the forum

Updated on Sat Aug 10, 2013
I finally got around to ordering some 'cree' LED reverse light globes for Surgeio from
eBay.
They look much better now the white light matches the Narva lights.
Nice white light all round now
At the last Grampians trip, I did a deal with Amanda for her original wheels.

After taking a few months to pick them up, (Thanks for holding onto them for me Amanda

), then a few more months to decide what I wanted to do with them, I had them powder coated satin black.
Ready for new tyres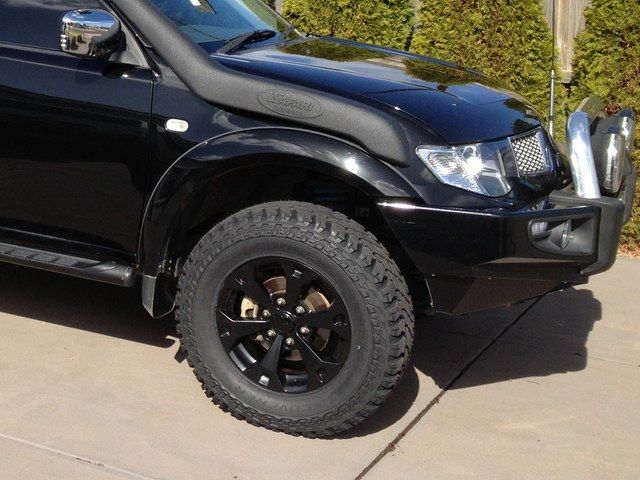 New Coopers fitted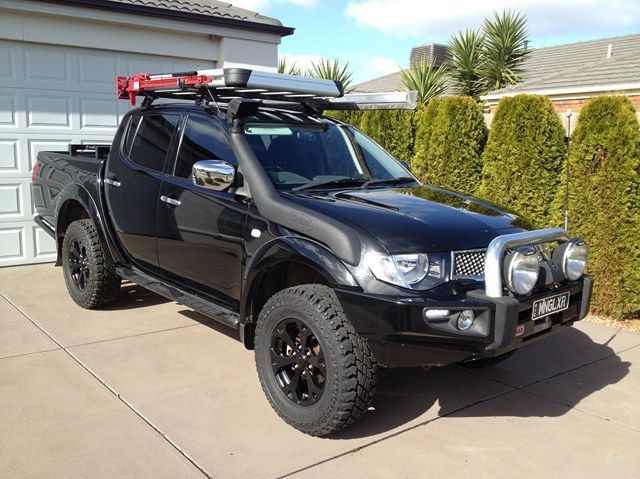 Surgeio looks different now
Updated on Sat Sep 21, 2013
Well, I learnt something the other day while at Mt Disappointment with the other guys.

I still hate mud
and I have not relaxed about my paint work as much as I thought I had

Here's a couple of pics of my new pinstripes.


They don't look as bad in the picture as they do in person.
New pinstripes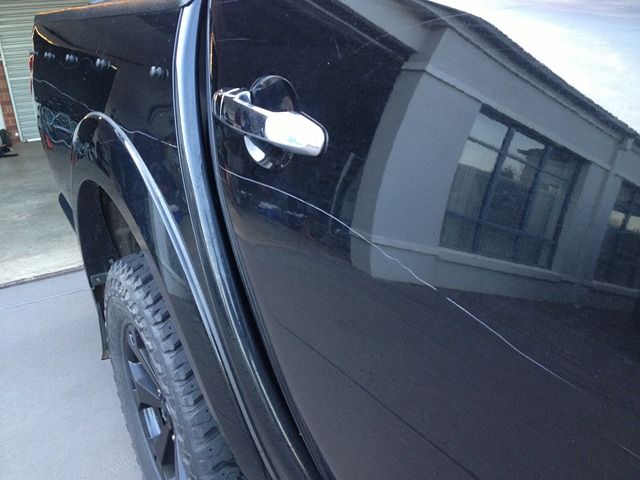 This one looks like someone keyed my car
Anyway..... enough sooking..... Some poser pics.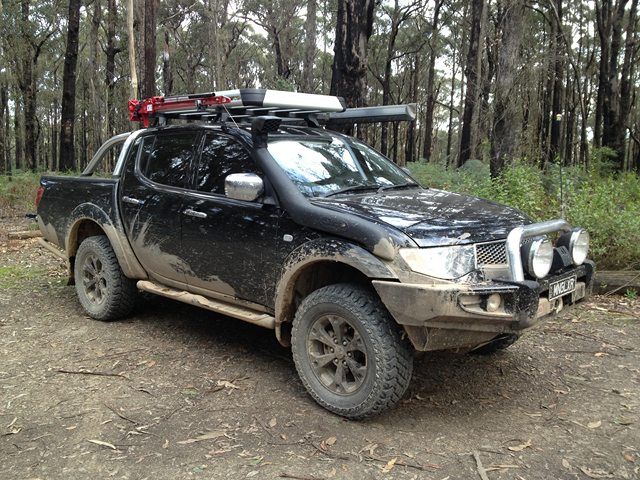 Stopped for lunch at the Wombelano Falls
Can't see the scratches with the mud on there
Updated on Sat Oct 12, 2013
I didn't really do anything to Surgeio but went out to Cobaw State Forest today to have a little look around

Although it is a small area, it has some great little tracks. Here's a couple of pictures.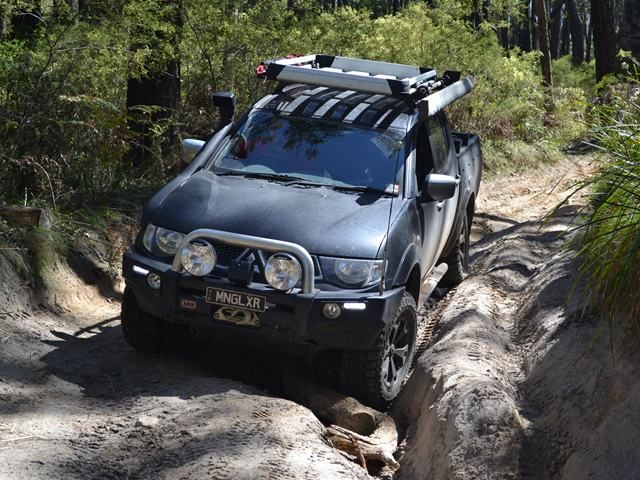 Lots of deep ruts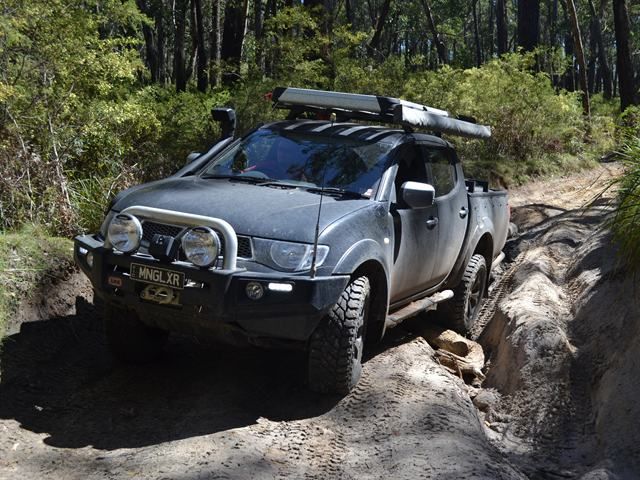 Good log placement got us through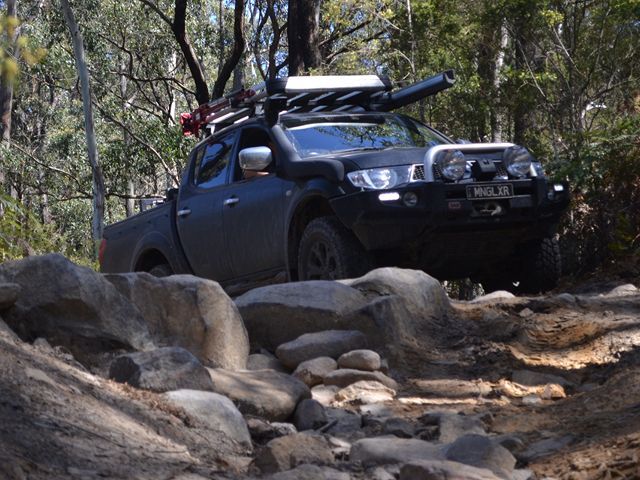 Lots of rocks around
More rocks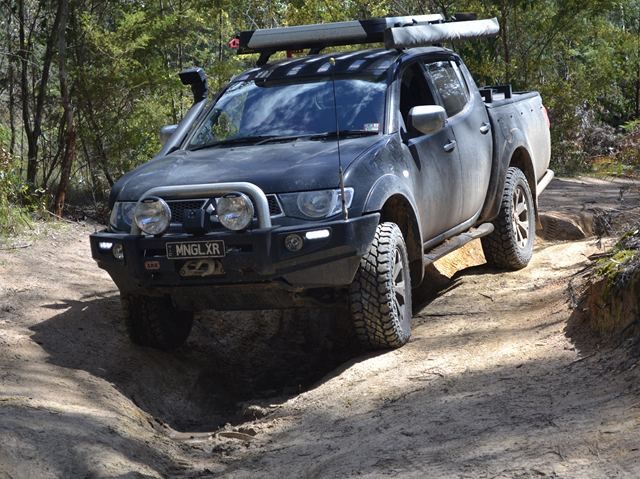 More ruts
As usual..... the pics don't do it any justice

Updated on Sun Nov 17, 2013
Only a small update.....
Something that has annoyed me from day one was the pathetic horns Mitsubishi fit to the Tritons.
Anyway today I fixed it, I replaced them with a pair of older Falcon horns..... Much better now

Updated on Tue Apr 22, 2014
Another a small update.....
I had ordered an 'ET mod', MAP sensor loom for my chip and a billet rail limiter from Tony and they turned up today

I fitted the MAP sensor loom and ET mod tonight which took all of about 20 minutes and will do the rail limiter on Friday.

Updated on Sun Apr 27, 2014
I have now fitted the rail limiter too and happy to report Surgeio is behaving MUCH better now. It tows a whole lot better and I went out 4wding today and it is a different car to drive.

I have a small issue to fix but other than that I couldn't be happier.

I'm sure I have forgotten a few things but too bad

that's what happens when I waited 3 years to start my build thread on a car that's almost finished