Hey all,
My first 4wd ever.
My mates are all keen on 4x4's all have them, leaving me out.. I'm a young hoon lol and rarely been off road.
I dont know much about this kind of thing so bare with me. lol
After looking around at alot of 4x4's, dicing up to buy old or new, something already done or not. I came to the conclusion I would rather buy new and do it myself.
The purchase, Day I got it. Brand New MY14 GLX-R.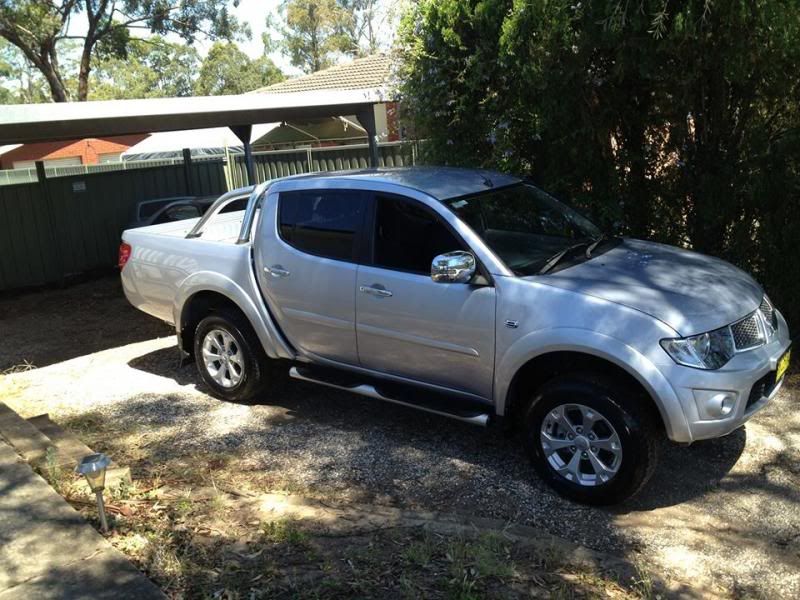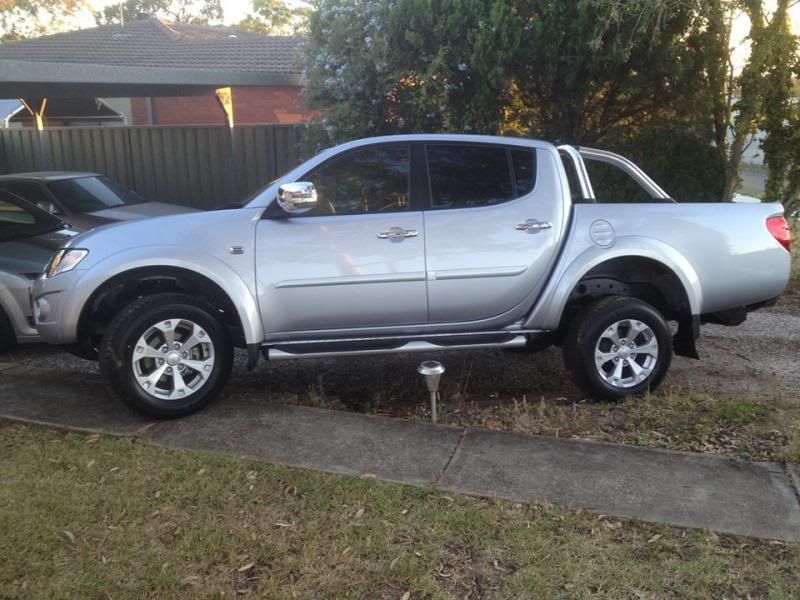 I found the triton was the best value for money and you get a fair bit of car for the coin.
When the car finally arrived the only things that the dealer had forgotten was a tub liner and the biggest thing, the factory option rear locker. As you can imagine I was not happy.
The car goes into ARB to get a rear airlocker and compressor fitted this thursday. Paid for by Mitsubishi.
Anyhow, with a huge 180kms on the clock I went and had a play.
Quickly realised I needed a snorkel, lift kit and tyres LOL. Plus I lost my number plate. Rivo has it now lol.
So a set of CSA Raptors 16x8 0 offset were fitted with 33x12.5R16 Kumho KL-71s wrapped on them.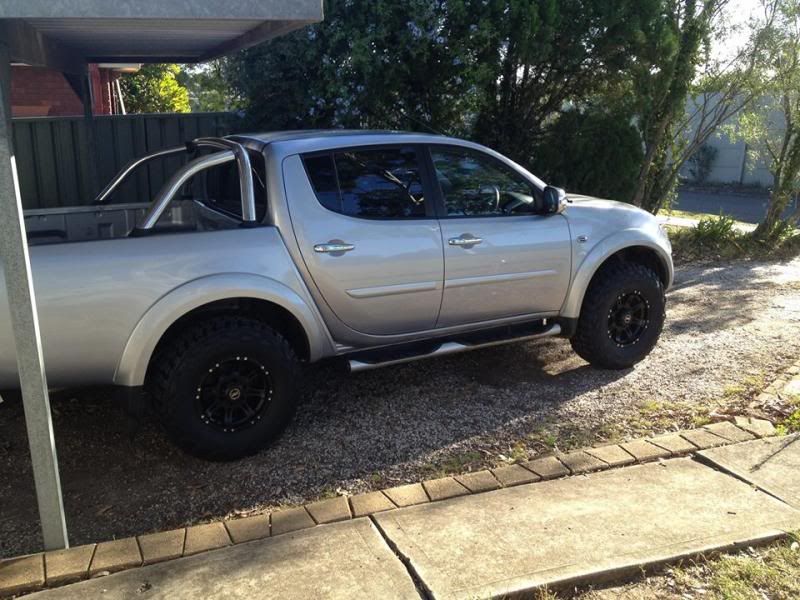 Still at stock height, they do touch the mud flaps and stick about an inch or so outside of the standard flares. Figured they would. So SuperiorEngineering was called to order those wider flares.
http://www.superiorengineering.com.au/p ... s_id=10658
Thats all the pics I have now.
But thats not all

Monster Rides Rekon coilovers and rear shocks + dobinsons rear leaves have been ordered.
They also arrive this thursday/friday and I will put them in this weekend.
Also being worried about the lift and brake lines. Safebrake was called and their Triton brake kit was ordered.
http://au-shop.safebrake.com.au/product ... roduct=651
Ontop of this, I've also ordered a Xrox Bull bar, bash plate, underbody protection from Opposite Lock.
The Triton is coming along reasonably quickly. Just hate waiting for things to arrive, wish everything was over night lol.
Next on the list. After the 1st round gets sorted.
Domin8tor winch with the rope.
Spoties and light bars.
Snorkel - unsure which one yet. Safari or the 4wdsupplies one.
Rock sliders - again unsure. Probably xrox or maybe hazzards.
Rear bar - still unsure lol. I like the TJM one.
Roof rack/cargo carrier and awning.
Once thats sorted.
Exhaust and Chip it modules.
http://www.youtube.com/watch?v=vy6EJ26E ... dgWlrqDRp3
http://www.youtube.com/watch?v=C9J31gdY ... dgWlrqDRp3
Will keep this updated as progress goes, will be sure to get lots of pics of parts, fitting etc etc.
Still have only done 200kms in this car, will be a shock to the dealer at the first service I think

Thanks,
Mat