G'Day Fellas,
We have a new product to add to our suspension line up for the Triton's and other trucks, the
Sax Suspension ThreeStage Dynamic Leaf Spring
.

Check here for the website:
http://saxsuspension.com/tsds.html
They have 2 options for full leaf packs:
1. Performance TSDS @ $1250 RRP
2. Extensive TSDS Mining Pack @ $1350 RRP
We have recently tested these leaf springs and have been very impressed with the results. The Performance TSDS is easily the best set up we have encountered for a guy who needs to carry a a full load or tow, but not all the time.
The Mining TSDS will suit the guy who carrys weights around the GVM most of the time.
The comfort and ride of these leaf springs while unloaded is superb, and then load them up and they perform just as well.
So how does it all work, well here is some info from the Sax Suspension website:
What is the ThreeStage Dynamic Leaf Spring?
The ThreeStage Dynamic Leaf Spring (TSDS) is the only proven suspension system that can deliver the total package. This includes state of the art performance, comfort, durability and maximum payload capacity without any maintenance.
This
Patented Product
has revolutionised the Suspension Industry and amazed people all around the world. It's maintenance free design combined with easy installation, plus the comfort and carrying capacity capability make this a 'breakthrough' in the suspension industry that hasn't been seen in over 40 years.
How do Airbag Suspension Systems compare?
Information gathered from the internet, dealerships, corporations and private individuals show that airbags are major contributors to chassis fatigue and cracking on vehicles carrying only moderate amounts of weight. This is due to the weight distribution points being relocated directly to the chassis in a place that is not designed to carry weight. Airbag systems also require large amounts of maintenance, and are very costly if one airbag, hose or valve requires replacing. A ThreeStage Dynamic Leaf Spring compared to a good Airbag System is alot cheaper and delivers a much higher quality of ride.
How can the ThreeStage Dynamic Leaf Spring carry more and still be a soft comfortable ride?
The Third stage that is bolted onto the top of the pack keeps the First load bearing stage preloaded. The Second stage then acts as a roll bar for the first stage, so instead of the first and second stage slapping together each time a bump is absorbed, they roll onto each other while the third stage carries the weight.

Is the ThreeStage Dynamic Leaf Spring good for Four Wheel Driving?
Yes! Definitely, the TSDS System will enable you to go to places you never could before. With faster acting droop and additional adjustable clearance, you will have more control over your vehicle. The ThreeStage Dynamic Leaf Spring is ideal for off-road exploration.
What is the Difference between the Equalizer, and the ThreeStage Dynamic Leaf Spring?
The Equalizer is an add-on system that attaches to your existing leaf pack. It is good for those who already have a heavy duty leaf spring installed and need that extra strength. The ThreeStage Dynamic Leaf Spring has its third stage built into a correctly calibrated pack, and because it is not u-bolted on like the Equalizer, there is no restriction in the center of the pack. This means the whole leaf spring is used, not just the third stage side of the leaves. We found the ThreeStage Dynamic Leaf Spring to be even more comfortable, smoother and stronger than the already successful Equalizer kit.
Packages
There is a TSDS Product that can cater to every type of Leaf Sprung Vehicle. Weither your in the mining industry, painter, builder, plumber or just looking for a smoother ride.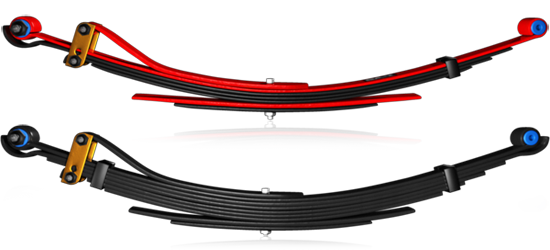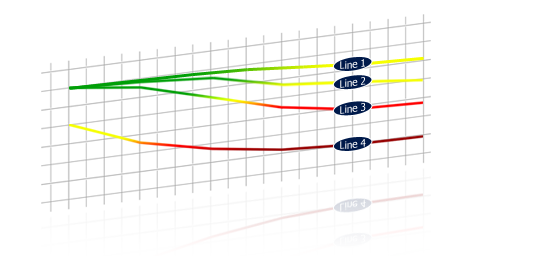 Line 1
- The Extensive TSDS pack is designed to do all that the Performance TSDS pack can do, plus a significant amount of extra weight. This spring was designed around the need for more strength and comfort in the mining industry.
Line 2
– The Performance TSDS has the capacity to retain ride height. As well as significantly reducing body roll, improve overall handling and safety for the vehicle and driver with weights of up to 1000 kg constant. The Performance TSDS enhances Comfort & Ride,without compromise in any given situation. This spring is designed for vehicles that have not had a GVM upgrade. For vehicles that have had a GVM upgrade, the Extensive TSDS comes into play.
Line 3
- Heavy Duty (2 Stage Constant) Leaf Packs show an overall improvement in carrying capacity, and approximately 60% better in overall performance, however it is not a long term solution as significant sag is noticeable within 12-18 months. Body Roll with this system is not significantly reduced.
Line 4
– Original Equipment (2 Stage Standard) Leaf Packs show very poor carrying capability which in turn causes very poor overall handling and performance, especially in body roll, breaking and steering.
So if you have any questions or would like to order, drop us a PM, email or call.
While these springs are priced at the top of the market for leaf springs their ability to have a comfortable ride while not carrying weight, and then still perform safely and comfortably while loaded is second to none and when compared with airbag systems the price is very reasonable.
It is also unmatched by any other leaf spring on the market we have encountered as far as an "all-rounder"
These springs are available in a 2" lift, as well as standard height.
Sax mention that lift on the ML is limited to a 38mm lift.
So if you have any questions or would like to order, drop us a PM, email or call.
We will post up some images and photos as we fit some up to Tritons over the coming weeks and months.
Cheers
Matt